Unique Medieval Programme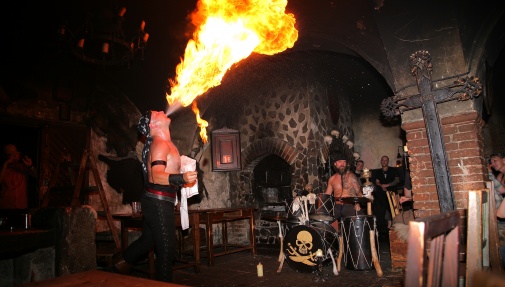 Reservation
If you have any questions or queries, please contact us.
Book a table
Middle ages, come and see for yourself! Every day from 19:00 h. to 22.00 h. in the Medieval Tavern of Dětenice.
Do not miss our new medieval programme in the Medieval Tavern! Come and enjoy our show performed by the fakir with his snake and be mesmerised by the breath-taking fire show and battles of heavy armoured worriers. Breath in the past and forget about the 21st century!
You will be entertained by swordsmen, dancers, beggars and live music all night long. For some gold coins, our innkeeper will serve you grilled meat and other medieval bites which you might want to wash down with some home brewed beer.
Experience our MEDIEVAL PROGRAMME designed especially for you!
execution by hanging, tongue ripping, burning of witches and interrogation by the inquisitors
battles in heavy plate armour, wild bear
table dancers, medieval music provided by a live band
jugglers, swordsmen, fakirs and beggars
medieval food specialities prepared over open fire, eaten with your bare hands
shockingly authentic medieval atmosphere and mouthy service 
The programme starts at 7 p.m., the entrance fee is 195 CZK.

Advance booking needed for Friday and Saturday.